Video Premiere: Robbie Williams – "Go Gentle"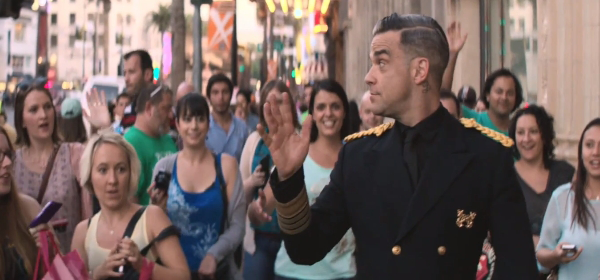 Robbie Williams is back with a new music video for his single "Go Gentle". The track is the first to be lifted from his forthcoming studio album, Swings Both Ways, out November 18th. The album features collaborations with original American Idol winner Kelly Clarkson, Lily Allen, Michael Bublé, Olly Murs and out musician Rufus Wainwright.
Speaking about the album, Robbie says, "First of all I wanted to do a Swing album, because I wanted to do a Swing album. I always knew I'd do another and I think now is the perfect time to do it. I'm enjoying show-biz and I'm enjoying my life and my understanding of where I am now is that there needs to be an event every time I bring out a record. The album this time is a definite ode and a loving glance towards a period on the planet that I was never invited to 'coz I wasn't there…I wanted to be, which I feel still very strongly linked to."
Adding, "Going in I planned it to be very similar to the last one, and then I realized – that's actually not what I wanted. It's different – it's not all covers, I had some songs that I wanted the world to hear and check out and maybe become part of the fabric of their lives, if I'm lucky enough, that I've had a hand in writing. So it's very very similar to the last one, and very different – and hopefully I'm off to romance the world!"
"Go Gentle" will be released on November 11th, but you can check out the music video below. The clip was filmed in downtown Los Angeles and shows Robbie "sailing" down the streets as captain of a ship.
Jared Braden is a music enthusiast and blogger who loves all things pop and dance. He is always on the lookout for new and exciting pop acts to bring to you.
Latest posts by Jared Braden (see all)