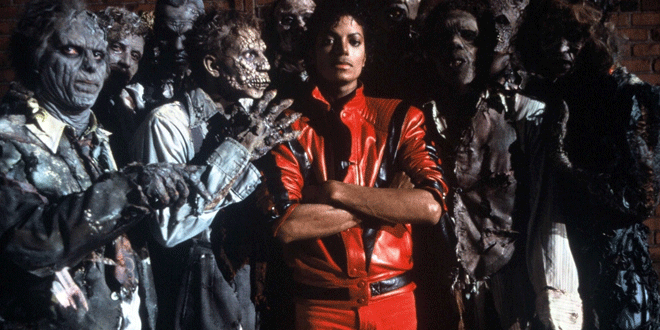 For most of us, music has always played an important role in our lives. Music is, without a doubt, one of the most beloved human experiences. Greek philosopher Plato once said, "Music is a moral law. It gives soul to the universe, wings to the mind, flight to the imagination, and charm and gaiety to life and to everything." I find it remarkable how certain songs can become attached to life experiences that will live on for as long as we do. Sometimes the visual counterpart to a song can leave an equally significant impression. Traditionally, music videos were only meant to be a means to stimulate record sales, but they can do much more than that — they can also help to capture the essence of a particular song and complete the performers artistic vision.
In this post, I randomly selected five of my favorite music videos to share with you. Initially, I tried to compile a list of my all-time favorites, but this proved to be a nearly impossible task. As with any list of this nature, it is all subjective, based on my own personal taste. Feel free to let me know what music video you would have included by leaving a comment below. You can watch all of the music videos I mentioned in this post at the bottom of the page.
Michael Jackson – "Thriller"
Growing up in an ultra-religious home, I was never introduced to the pop music that was ruling Top 40 radio during the 80s, but I knew who Michael Jackson was. He was virtually inescapable at the time. I remember spending the night with a neighbor and seeing the music video for "Thriller" for the first time. I was terrified, entertained and intrigued all at the same time. So, what music video list would be complete without it?!
The 14-minute clip, which was directed by  John Landis, took the idea of the music video to another level by transforming it into a mini film. The video, which many would still consider to be the most ambitious to ever be made, cost half-a-million dollars; at the time, it was the most expensive music video ever made. The week before the "Thriller" music video made its debut, sales for the album of the same name had slowed down to a respectable 200,000 copies a week. After the clip premiered on MTV, Thriller sales skyrocketed and pushed the album back to the top of the charts. Michael Jackson will always be remembered for his enormous contributions to music. "Thriller" is one of those contributions.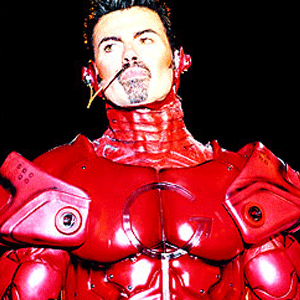 George Michael – "Freeek!"
Released in 2002, "Freeek!" was far from being George Michael's biggest hit, but it did mark a drastic change in direction for the pop singer. The futuristic music video was directed by the still very much in demand director Joseph Kahn (Kylie, Britney).
The visual interpretation of the song incorporates a futuristic theme including cyborgs and sophisticated technology, and has a sexually assertive tone, like the leashed dogs that transform into female bondage slaves. With lyrics like "I'll be your educational lover. Your one fuck fantasy", the video fit the animistic lyrics perfectly. According to Michael, the song was meant to serve as a warning as to where humanity is heading with technology.
"Because I was trying to say something aggressive, it really freaked out my female audience," Michael explained in a 2006 interview. "I love it as a record, but it stands out so much as not my normal intent. It made me understand how much people invest in who they think you are."
"Freeek!" is one of the last really big budget music videos that I recall seeing at the time. They really don't make them like this anymore, which really is a shame.
Björk – "It's Oh So Quiet"
Spirited, energetic and strangely burlesque, the show-stopping "It's Oh So Quiet" was an odd song choice for Björk to cover, but somehow it all worked. The music video, which was directed by Spike Jonze and shot in San Fernando Valley, California, featured Björk performing a series of eye-catching choreographed dance numbers. For the video, the Icelandic pop singer was clearly paying homage to the classic Hollywood musicals of Fred Astair and Gene Kelly. If the music video didn't get your attention, the riotous chorus was bound to peak your interest. While the song wasn't a big success in America, it was a staple on MTV. It did much better overseas, debuting at No. 8 on the UK Singles Chart, becoming her third and last UK Top 10 single.
Sinéad O'Connor – "Nothing Compares 2 U"
With all her recent drama with Miley Cyrus and her very public battle with depression and mental disease, it's easy to forget what a talented artist Sinéad O'Connor really is. When Sinéad hooked up with British producer Nellee Hooper in 1990, the result was a fantastic cover of the Prince penned "Nothing Compares 2 U". The song is easily one of the most iconic songs of the 90s, and the video is equally as captivating.
In the John Maybury directed video, after singing "All the flowers that you planted, Mama, in the back yard, all died when you went away," tears begin to run down each of Sinéad's cheeks. This moving visual was totally unexpected and unplanned. According to Sinéad, she cried because she was thinking about the troubled and complex relationship she had with her late mother, who allegedly abused her as a child. Speaking in a recent interview about the video for "Nothing Compares 2 U", the Irish singer said: "It wasn't what we had planned for the video. So what happened, happened accidentally and we decided to keep it."
For both a song and its video to connect so deep is a rare occurrence, but "Nothing Compares 2 U" did just that. The emotional music video, which took home three moonmen at the 1990 MTV Video Music Awards, represents the heartfelt lyrics impeccably.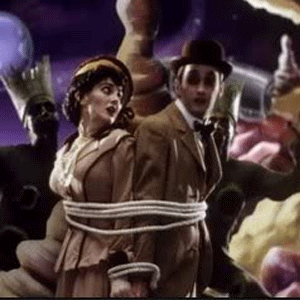 The Smashing Pumpkins – "Tonight Tonight"
Almost a shot-by-shot re-creation of Georges Méliès's silent film 'A Trip To The Moon', the music video for The Smashing Pumpkins song "Tonight Tonight" was unlike anything I had seen before.
The video, which was directed by Jonathan Dayton and Valerie Faris and starred Tom Kenny and Jill Talley, starts with a group of people celebrating the launch of a zeppelin. When the zeppelin is airborne, an adventurous young couple leaps from the craft only to land on the moon. Shortly after landing, they encounter a gang of  evil aliens intent on enslaving them. After making an escape plan and breaking free, the couple jumps on a rocket, land in the deep blue sea and are eventually rescued by a passing ship
According to lead vocalist Billy Corgan, the video "was something special because the moment it was on TV – everybody, and I mean everybody on the street that you would meet wanted to talk about it. And I'm not just talking about fans of the Smashing Pumpkins. I'm talking about like the guy parking the car. You'd go into a restaurant, the waitress who is 52-years old was talking about it. It was just one of those videos for some reason – it just connected with everybody."
The spellbinding music video for "Tonight Tonight" went on to win six awards at the MTV Video Music Awards in 1996, including Video of the Year, Best Direction, Best Special Effects, Best Art Direction, Best Cinematography, and Breakthrough Video.
Jared Braden is a music enthusiast and blogger who loves all things pop and dance. He is always on the lookout for new and exciting pop acts to bring to you.
Latest posts by Jared Braden (see all)