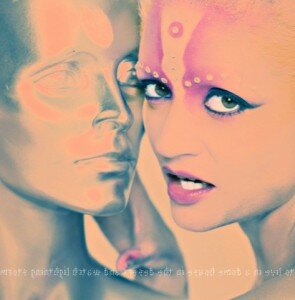 A
na Voog, the former front woman of the Minneapolis based pop/rock outfit Blue Up, first gained attention after launching the website
anacam
. The website, which constantly beamed a new image twenty-four hours a day live from her apartment, would regularly garner upwards of twenty million hits a month.
One year after launching her website, the musician, visual artist and performance artist inked a solo record deal with Radioactive records — home to artists like Traci Lords, Live and Star 69. Voog immediately began work on her debut solo album, anavoog.com. With her heart set on finally getting out of Minneapolis once and for all, Voog wanted to make sure the project was handled properly, so the aspiring electronic singer brought in former Prince & the Revolution drummer Bobby Z to handle production work.
Speaking about working on anavoog.com, Voog told Billboard:"It was interesting to make an electronic record finally. Techno is the sound light would make if it made sounds. I see visions when I hear the sounds on the album. It's the beginning of a new era." Although Voog was optimistic about her music, she knew it wouldn't appeal to everyone. "The people who get it will get it, and those who don't won't. I'm not out to win intolerable fans. I just want to do what I do."
After deciding the lead single from the LP would be the infectious "Hollywood," remixes of the track by Juno Reactor, JS9, Davidson Ospina, and Mike Ski were commissioned. Even with this army of top-notch remixes, "Hollywood" failed to make a lasting impact on the dancefloor, peaking at a disappointing No. 45 on the Billboard Hot Dance Club Play chart. While the song was a commercial disappointment, the ethereal track made an enduring connection with me. You can stream the LP version of "Hollywood" below. Unfortunately, the song isn't on iTunes, but you can find the single on Amazon and eBay. Ana has recently been performing and promising new music. I am eagerly awaiting anything new from this severely underrated artist.